About the Association
The Australian Military Medicine Association was established in May 1991, however, in October 2012 a resolution was approved to rename the Association the Australasian Military Medicine Association.
AMMA is an independent, professional scientific organisation of medical and allied health professionals with the objectives of:
• Promoting the study of military medicine
• Bringing together those with an interest in military medicine
• Disseminating knowledge of military medicine
• Publishing and distributing a journal in military medicine
• Promoting research in military medicine
Membership of the Association is open to doctors, dentists, nurses, pharmacists, paramedics, human factors specialists, psychologists, psychiatrists and anyone with a professional interest in any of the disciplines of military health. The Association is totally independent of the Australian Defence Force, however there are strong connections with the Australian Defence Force Health Services Branch. read more »

Congratulations to the following AMMA Members who received 2015 Australia Day Honours
Prof Bradley McCall AM – Member of the Order of Australia
CMDR Roy Beran AM – Member of the Order of Australia
LTCOL Elisabeth Barnett CSM – Conspicuous Service Medal
The latest edition of JMVH, Vol 23 No 2 is now available (www.jmvh.org).
A Healthcare in Danger report compiles a complete set of practical measures read more »
A report in The Conversation on reliving the pain of war: military deployment and PTSD read more
2014 AMMA Conference
Thank you to all of our delegates, sponsors and exhibitors.  The conference was a wonderful success.  Presentations have been uploaded on the delegates only page at www.amma.asn.au/amma2014.
2015 AMMA NZ Regional Symposium
AMMA held its first Regional Symposium in New Zealand on March 21.  Thank you to our presenters, Dr Andrew Robertson and Dr Darryl Tong for providing a wonderful program.
2015 AMMA Conference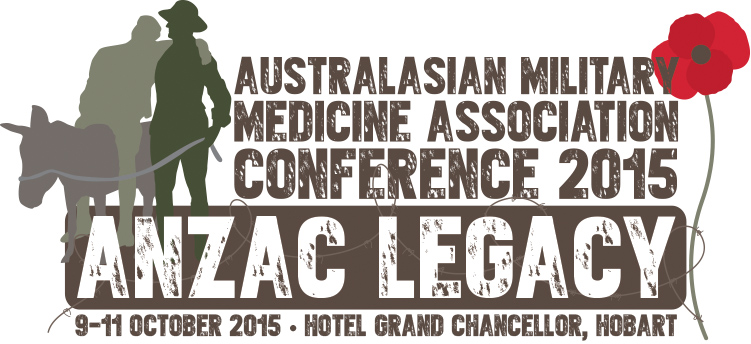 We look forward to seeing you in Hobart this year at the Hotel Grand Chancellor from 9-11 October 2015.  Call for Abstracts is now open. Click here to submit.
Click here for sponsorship prospectus.